The truth is that Naxos beaches are a bit different than their Cycladic counterparts.
Nestled in super long sandy coasts, boasting exotic landscapes and mesmerizing turquoise waters, the beaches in Naxos are one of a kind!
Another thing about Naxos beaches is that they cover every taste. So, if you like more popular beaches, visit the western side of the island, while, if you prefer more secluded beaches, you should head to the eastern side of Naxos.
Whatever you choose, Naxos beaches will reward you with an incredibly beautiful ambiance!
Keep reading and prepare yourself to fall in love with the best Naxos beaches!
1. Plaka beach Naxos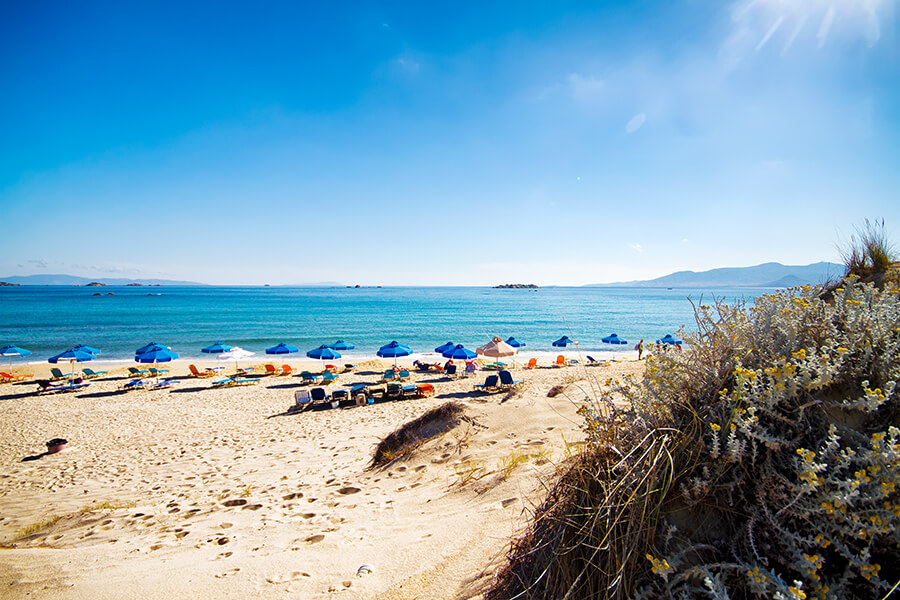 Plaka beach Naxos, which is actually the extension of Agios Prokopios and Agia Anna beaches, is one of the longest and most loved Naxos beaches. Having 4 km of white fine sand, big sand dunes, an enticing landscape and calm crystal clear waters, this beach is arguably one of the most popular beaches of the island.
One part of this beach is organized with umbrellas and sunbeds, while the rest of it keeps its unspoiled beauty. What's more, along the beach you'll find many Naxos hotels, cafes, beach bars, restaurants and taverns, while there are also facilities, such as mini markets and water sports facilities.
2. Saint George beach Naxos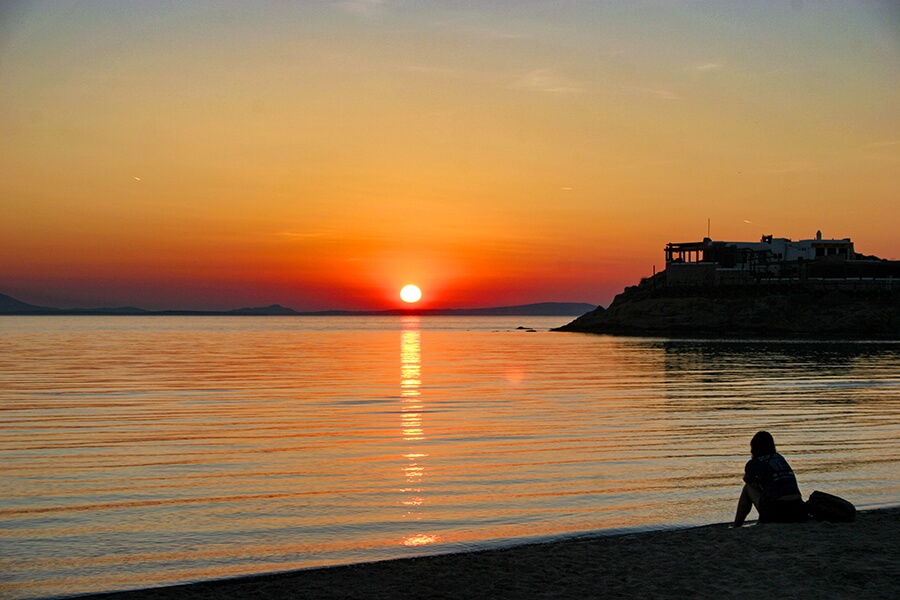 Just 3 minutes away from Naxos Chora, Saint George beach Naxos is one of the most popular Naxos beaches! Saint George is a sandy 1 km long beach with crystal clear shallow waters, perfectly safe for little kids. It is also fully organized with umbrellas and sun loungers, while its southern side is ideal for surfing!
In Saint George you'll find a good selection of Naxos accommodations, seaside taverns and many amenities that will make your beach day as comfortable as possible! This beach is the perfect choice for a plunge, without getting far from Chora.
3. Mikri Vigla beach Naxos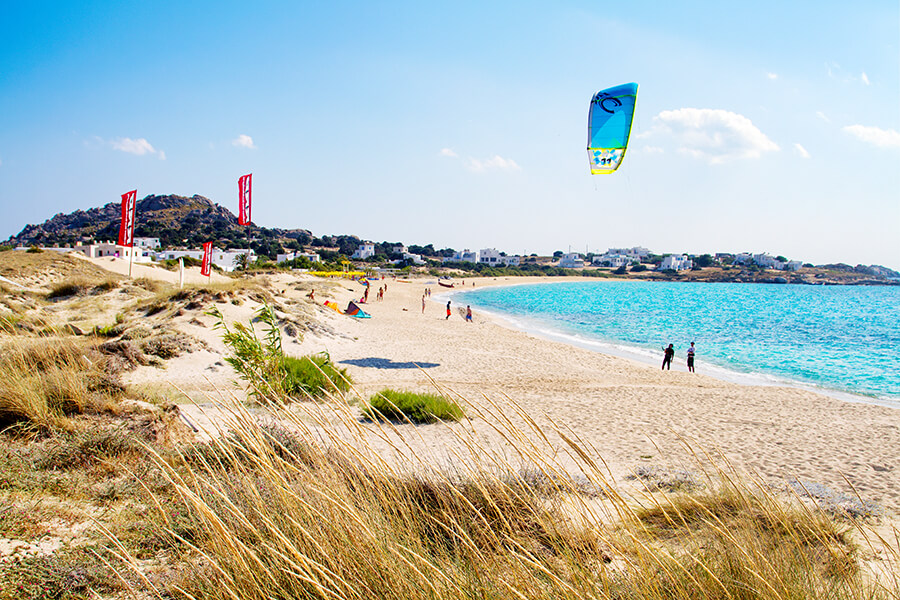 Located 18 km away from Naxos Chora, Mikri Vigla Naxos is one of the most idyllic Naxos beaches. Mikri Vigla is actually divided in two sandy beaches: the northern beach (Parthenos) and the southern beach (Limanaki).
In Parthenos beach blow the famous "Meltemi" northern winds, so it is a popular spot for windsurfing and kitesurfing, attracting many water sports fanatics. Unlike Parthenos, Limanaki beach is rarely affected by the winds, so there's luscious swimming to be had at it.
3. Agios Prokopios beach Naxos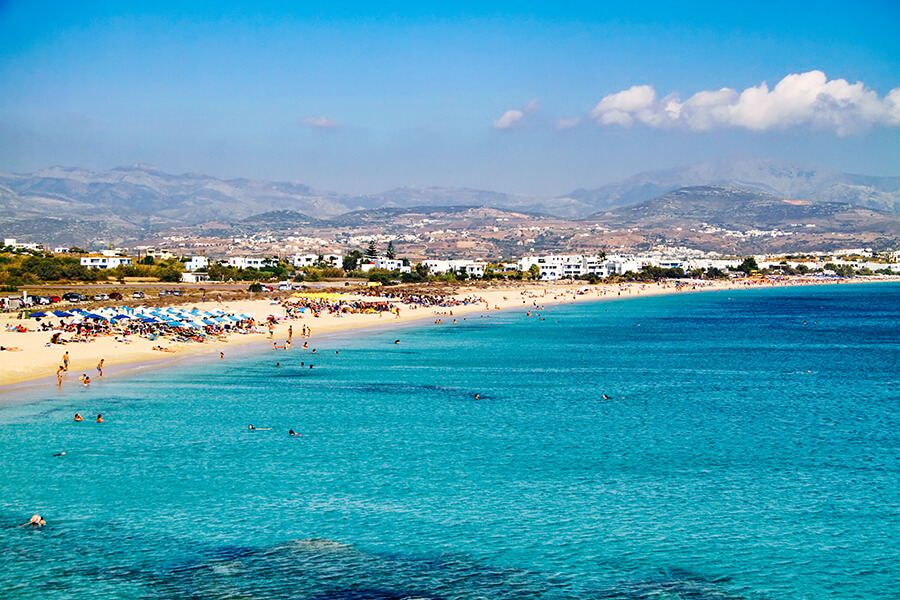 Agios Prokopios Naxos is considered one of the most beautiful beaches not only in Greece, but also in Europe! Located 5 km away from Naxos Chora, this 1.5 km long sandy beach has crystal clear waters and is protected from the strong winds that usually affect the Cyclades islands.
Agios Prokopios beach is organized and has water sports facilities. For those who seek seclusion, though, there's an unspoiled part of this beach, where you can enjoy some privacy. Behind the sand dunes of Agios Prokopios beach, there is a village where you'll find a selection of hotels, bars and restaurants.
4. Orkos beach Naxos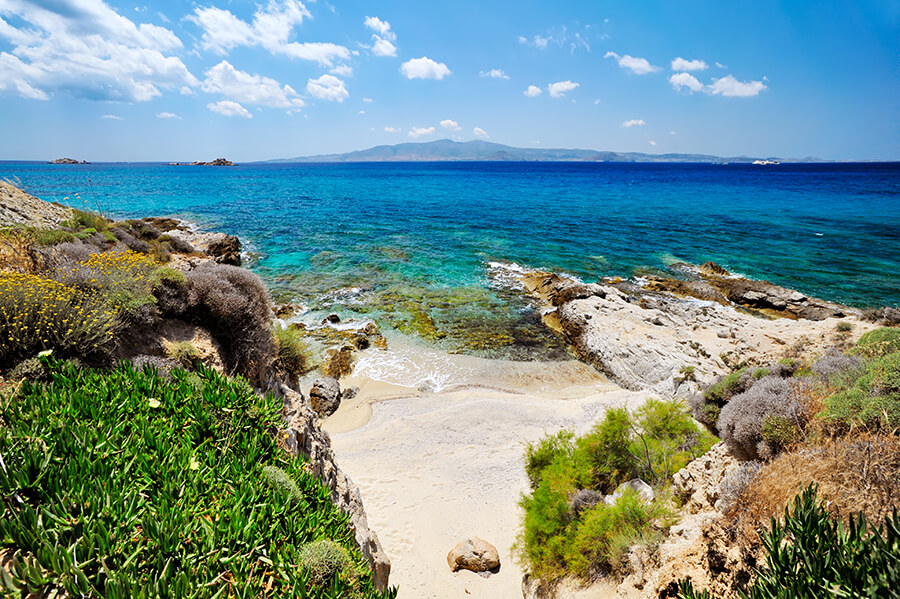 Orkos beach Naxos is nestled between Plaka beach and Mikri Vigla beach, boasting a beautiful natural landscape. Far from the crowded beaches, Orkos is basically an array of small sandy coves insulated by red rocky hills. The fine golden sand, the turquoise waters of the sea and the panoramic view to the southwest side of the island complete the magical scenery in a unique way!
If you're someone who prefers remote beaches away from the hustle and the bustle, this one will be one of your favorites in Naxos!
5. Agia Anna beach Naxos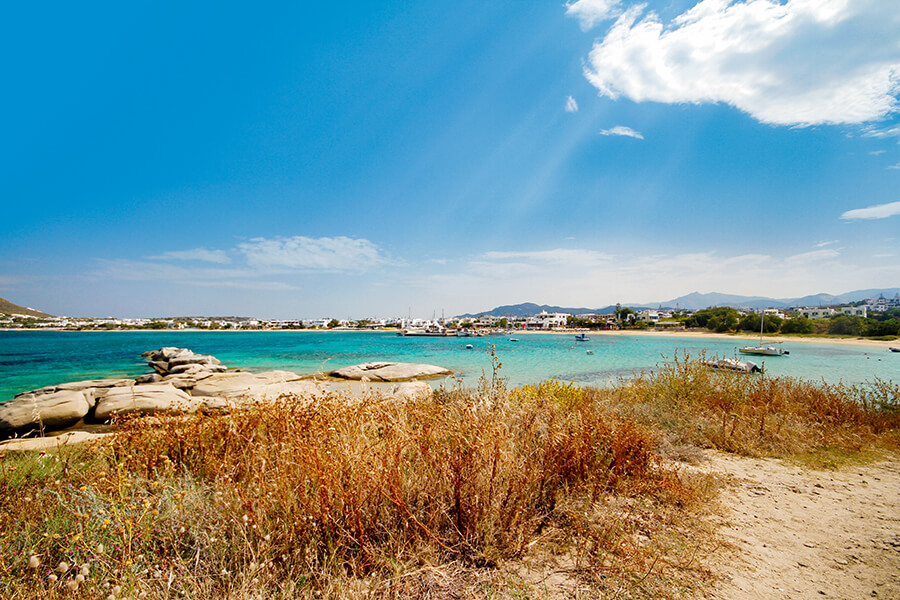 Agia Anna beach Naxos is actually the extension of Agios Prokopios beach. Stretching around a picturesque fishing port, Agia Anna, which is located just 7 km from Naxos Chora, is one of the most popular and beautiful Naxos beaches.
Having golden sand, turquoise waters and being backed by a beautiful cedar forest, Agia Anna boasts a breathtaking natural landscape!
6. Aliko beach Naxos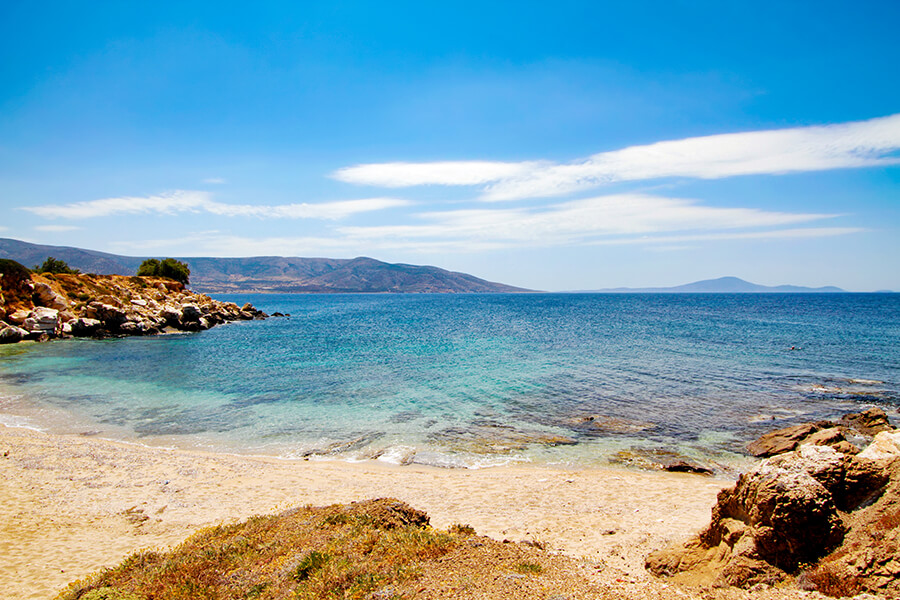 Nestled in a sandy cove on the northwest side of the island, Aliko beach Naxos is one of the island's hidden gems! This little exotic beach is the ideal place to unwind and find your peace away from the island's crowded beaches.
Surrounded by a verdant cedar forest, having a rocky backdrop, big sand dunes, soft white sand and turquoise waters, Aliko seems to have popped straight out of paradise. The fact that this beach is non organized, thus completely unspoiled, makes this paradise feeling even stronger!
To sum up, from crowded, to secluded and from organized to unspoiled, Naxos beaches are irresistible!
You might feel overwhelmed with which beaches to visit, but there's a solution:
Book a trip to Naxos and visit them all, one by one!