Being the largest of the Cyclades islands and having a rich historical past, Naxos is arguably one of the top holidays' destinations in Greece!
It's not just its beauty or its culture though that make this island standing out from its Cycladic counterparts.
There's also a whole heap of things to do in Naxos!
Thanks to its large size, unique geology, stunning natural landscape and glorious past, Naxos offers plenty of choices for activities and adventures.
Are you ready for an adventure in Naxos?
Wander in Chora Naxos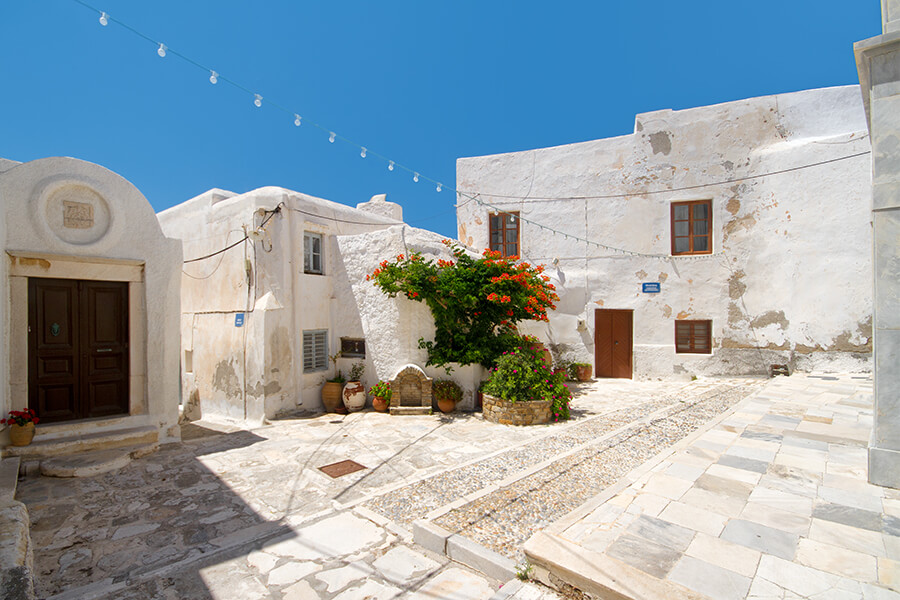 First things first: Chora Naxos, the island's capital, is the perfect spot to start your exploration from! It is also the main arrival point for most visitors, as it's where the port of Naxos is located.
Chora is an incredibly photogenic and strollable village located on the west coast of the island. It boasts a charming ambiance with narrow lanes, traditional whitewashed houses and colorful corners- the perfect sample of Cycladic architecture… Dreamy, right? In Chora Naxos, you'll also find a great selection of Naxos hotels, restaurants, shops and all kinds of amenities.
Chora Naxos literally breaths history!
The standout of Chora is the Venetian Castle, a vestige of the Venetian era. This impressive medieval monument has two entrances: Trani Porta and Paraporti. Inside the castle, you'll find monuments such as the Kapela Kazatza, the Catholic Cathedral, the Tower of Glezos and the Boarding School of Ursulines. After a long day of exploration, sit at the cafeteria on the terrace of the castle, have a refreshment and marvel at the gorgeous view. Pure bliss!
Watch the sunset at Portara Naxos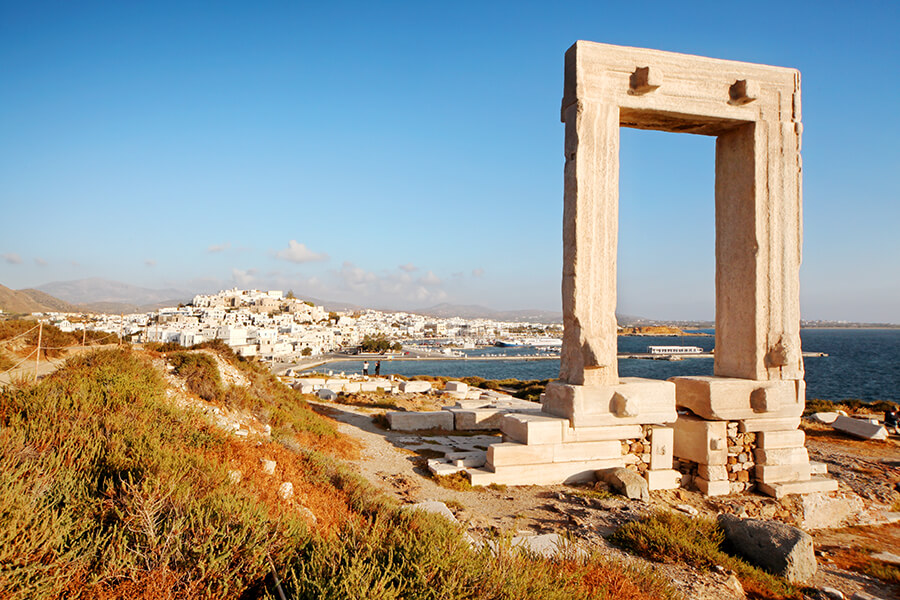 Portara Naxos is arguably the island's trademark!
Basically, it is the first thing that will catch your attention as you approach Naxos by ferry.
Portara, which means big door in Greek, sits on Palatia islet, which is connected to Naxos Chora. It is a huge marble gate, the only remnant of a 7th century BC ancient temple dedicated to the Greek god Apollo. This marble door frame is truly impressive: It is 6m high and 3.5m wide, while it consists of 4 separate columns, each of which weighs 20 tons!
Thanks to its elevated position, Portara Naxos is the ultimate spot to watch the sun go down. Either you are a history buff or a seeker of marvelous views, Portara is a must (plus instagrammable) sight to visit in Naxos!
Do windsurfing at Naxos beaches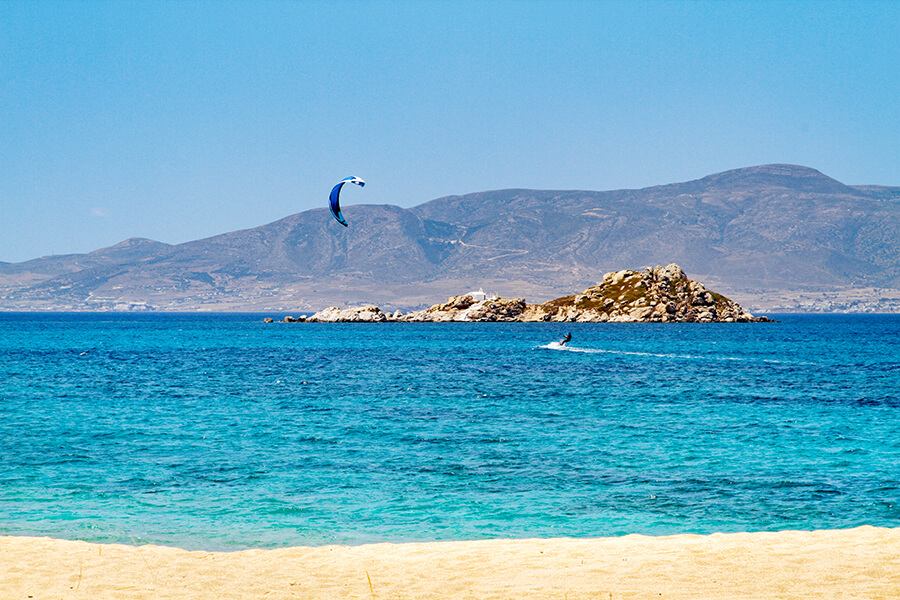 Are you an adrenaline junkie or you like to try new things during your holidays?
Either way, windsurfing in Naxos is a must experience for all the thrill seekers out there!
The northern winds, also known as "Meltemia", which blow in the island during the summer months make Naxos a top destination for watersports and especially windsurfing. Laguna, Agios Georgios, Agios Prokopios and Plaka are the best Naxos beaches for windsurfing.
For those who prefer kitesurfing over windsurfing, Mikri Vigla beach is one of the best beaches for kitesurfing in Greece. Keep in mind that "Meltemi" winds get stronger in the early afternoon hours, so this is the best time of the day to catch some waves!
Go trekking at Mount Zas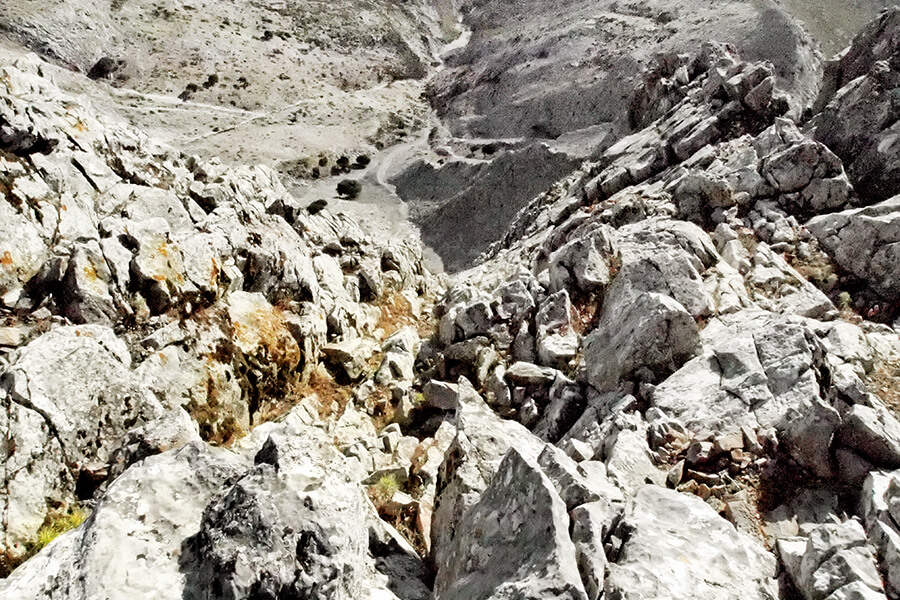 For those of a non-beachy disposition, Naxos has a lot to offer in terms of nature exploration!
One of the best things to do in Naxos is to go trekking at mount Zas, the highest peak (1,004 m) of the Cyclades island group. The trekking path to mount Zas starts from Danakos village, on the southeastern side of the island. The way to the top is beautiful and hides many surprises, such as Agia Marina chapel, cave Zas and an ancient marble inscription. Once you manage to reach the top, you'll be rewarded with a breathtaking view to the Aegean Sea and the nearby Cyclades islands.
Even if you don't manage to get to the top of the mountain, make sure you visit cave Zas on the slopes of Mount Zas. This cave was where, according to Greek mythology, little Zeus hid from his father Cronus, who was after him to eat him. (Luckily, Zeus managed to escape his cruel father!)
Explore the mountainous villages of Naxos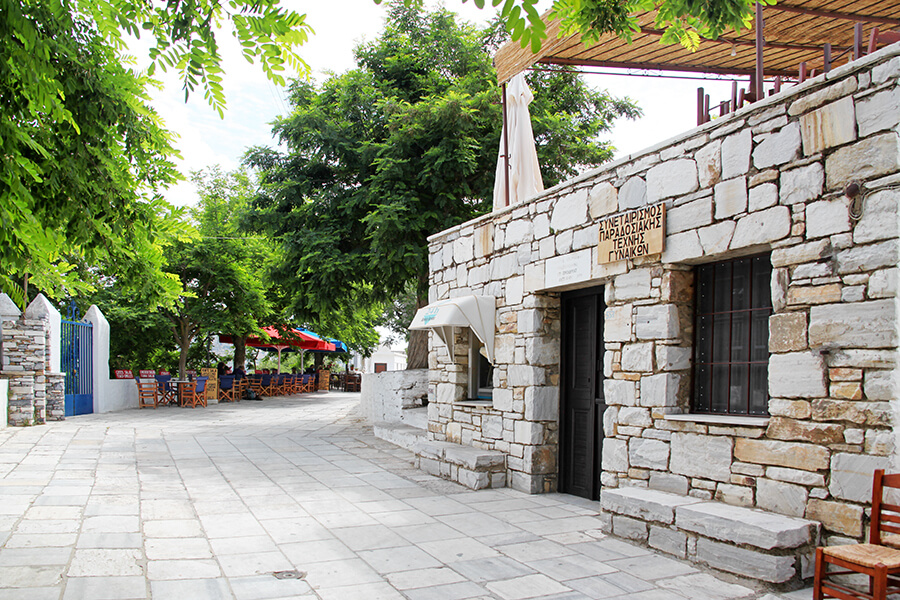 No visit to Naxos is complete without an excursion to the island's mountainous villages!
Mountainous Naxos villages are the island's little gems. They are the perfect places to have a wander without the hustle and the bustle of tourism and introduce yourself to the island's culture.
Naxos villages boast the traditional Cycladic architecture, meaning whitewashed cubic houses, blue-domed churches and narrow alleys galore.
With 41 charming villages to explore, you'll never run out of options! We highly recommend you take a break from beach life and visit Apiranthos, Halki, Filoti, Koronos and Sangri, some of the most beautiful rural villages in Naxos!
Extra tip: If you want to partake in the island's culture, aim for your visit to fall on the traditional feasts that are regularly organized in Naxos villages.
All in all, there's a whole heap of exciting things to do in Naxos! From sightseeing to wandering in picturesque villages, there's always something new to discover!
So, what are you waiting for?
Book your tickets to Naxos and get ready for picture-perfect holidays in Greece!